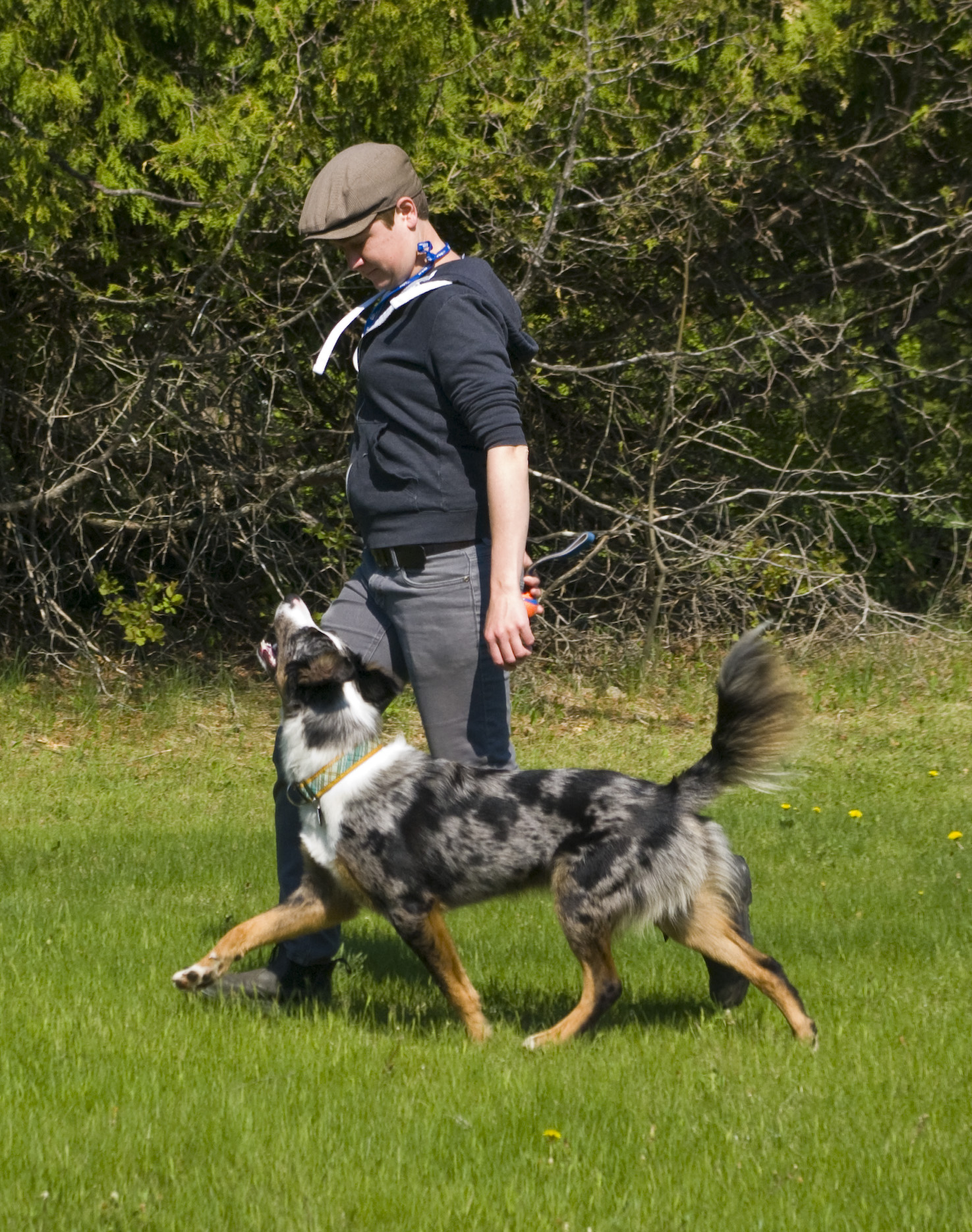 A Rally Obedience course is made up of numbered stations at which the dog and handler will perform the described exercise, and heel in between. Upper levels of the sport includes agility equipment like jumps, tunnels and weave poles!
In order to achieve a flowing performance, the Rally Obedience class focuses the dog and handler mastering skills such as heel, pivots, and position changes.
This course is the best place to start if you want to:
Benefit your dog's leash walking and attention skills
Continue building your training skills and have fun with your dog!
Compete in Rally Obedience in any venue (CARO signs are used in class)
Requirements
For a virtual class: Technology requirements for the virtual format are outlined in the Virtual Training FAQs
For an in-person class: Dog must be safe and non-disruptive in a group class environment
This class requires a consistent handler to attend all classes. Pairs of handlers are welcome (when permitted by COVID regulations), but one must attend consistently.
Dogs and handlers must have prerequisite skills (see below)
Submitting registration/payment indicates acceptance of the group class policy
Intro to Rally Program
Prerequisites
Completion of a Foundation Program at Scratch and Sniff Canine Services OR an equivalent program at another school
Owners who have not trained at Scratch and Sniff Canine Services previously must review the Orientation Webinar
Intro to Rally – Prerequisite behaviours include:

Skill and understanding of clicker training (both dog and human)

Zen or Leave it (impulse control around food in hand)
Sit (verbal cue or hand signal)
Down (verbal cue or hand signal)
Stay basics
Hand target/touch
If you have questions about the prerequisites please contact the office

Props – outside of the usual training equipment, participants will need a stable, overturned food/water bowl with a grippy surface (glued on yoga mat, rubberized, scratched up duct tape, etc)
Pricing and Schedule
Check back soon
Book your spot now!
Contact the office with questions before registration
View the Orientation Webinar
Click the button to complete the registration form
To confirm your spot: upon receipt of your invoice, payment must be made within 24hrs via Email Money Transfer to [email protected]
Next Level Rally
This is your follow-up to Intro to Rally to continue building skills introduced there, as well as learn new stations and exercises!
Requirements
See "Requirements" above. This program includes off-leash elements.
Prerequisites
Completion of the Intro to Rally Obedience Program
Pricing and Schedule
TBA
Book your spot now!
Contact the office with questions, or book your spot below.
This class is not currently on the schedule. Join our mailing list for an alert the next time this class is on the schedule.