Dog training in the age of Social Distancing…
it CAN be done!
The COVID-19 pandemic has closed down our in-person classes, but we can achieve the same great results with the wonders of modern technology!
Virtual Life Skills is an all-ages manners and obedience program, appropriate for puppies and adult dogs alike.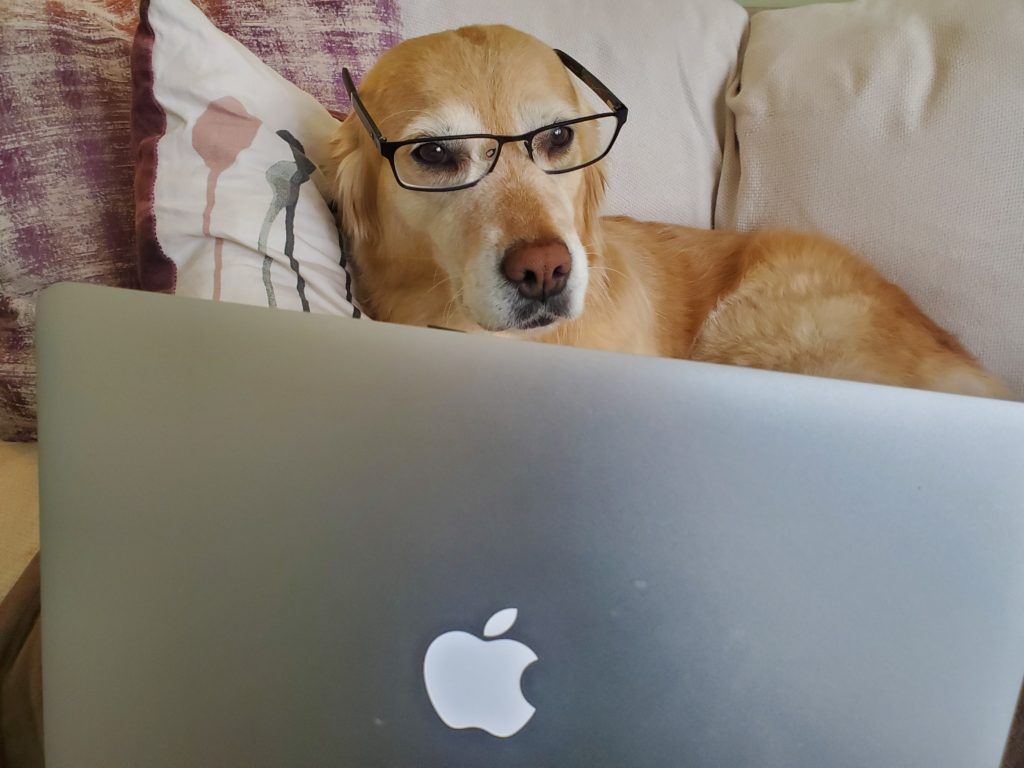 We will cover topics such as:
Come when called
Settle and stay on a mat
Polite leash walking
Dealing with distractions
Polite greetings with people
Prevent running out the front door
Impulse control around food
Preventing "Counter surfing"
And more!
How Does Virtual Training Work?
Using a video conferencing program called ZOOM, we will meet in our "virtual classroom" at the designated start time.
Just like a regular training class, your instructor will introduce and demonstrate exercises, and you will work with your dog on each skill. ZOOM allows you to receive personal feedback in real time, and have questions about each exercise answered on the spot!
To join a virtual class, all you need to do is click the link that is sent to you by email. Easy as that!
Technology requirements are:
Read the FAQ for more important details, including what to have ready for class!
What are the Perks?
In addition to learning and feedback in the live ZOOM class sessions, this program also includes the following perks:
Free Orientation Webinar to watch before class starts
Become a member of a private Facebook group to receive instructor feedback on your videos of class exercises between ZOOM sessions
Receive a Program Manual including all the exercises introduced in class
If you miss a class, simply watch the recording of the session!
PUPPY BONUS: Puppies under 6mo receive FREE access to the Smart Socialization Webinar AND Puppy Socialization Manual!
Flexible Start Date
You can start class any time space is available! No need to wait for a new session. All you need to do is:
Choose your start date with the office
Submit full registration and payment within 24hrs to confirm your start date
Attend 6 consecutive weeks of virtual training classes
Contact the office to find out the next available start date!
Register Here!
This program will launch SOON! Join our mailing list for an alert.
Wednesday 6-7pm
Saturday 10am-11am
* Additional classes may be added with demand!
Join class ANY TIME and attend 6 consecutive classes to complete your program. Access your program manual, webinar(s) and Facebook group any time.
Let's get started…
Read the FAQ before registration. Questions are welcomed any time!
Submit registration below by clicking on the bold date (NOTE: the below date does not represent your start date)
We'll be in touch shortly with instructions!
This program will launch SOON! Join our mailing list for an alert.